Latest Price: MYR14.70
Brands: Abate
Category: Tools, DIY & Outdoor > Lawn & Garden > Weeds & Pest Control
---
Product details of BASF Abate® 1.1G Aedes Mosquito Larvae Killer 100 Gram
Product Form: Granule
Product Type: Mosquito larvea killer
Odorless: Yes
Concentrate: No
Active Ingredient: Temephos 1.1%
How Does Abate Work?
Dengue fever is spread by Aedes mosquitoes. The control of Aedes larvae with Abate® 1.1G is an effective way of controlling the spread of dengue fever. By applying Abate to standing water where mosquitoes and other insects breed, you will kill the larvae before they develop into mature mosquitoes. This method provides board community protect.
Abate Works Fast And Last Long
Abate® 1.1G in water retains its efficacy for at least 2 months if water is not replenished or replaced. It is an economical and efficient way to keep your environment Aedes-free.
In addition, because Abate is a different chemistry from pyrethroid (insecticide) sprays targeting mature mosquitoes, it works to greatly reduce the chances of resistance compromising your overall mosquito-control effort and helps you quickly get mosquito population under control. 
Application: 
2 grams or 1 teaspoon per 18 liters of water
Applicable to: 
* Portable water containers
* Non-consumable water tank
* Vase
* Flower pots
* Base plates
* Roof gutter
:: READ PRODUCT LABEL BEFORE USE
New stock
Efficient mosquito larvae control
Long lasting effect
Complete BASF Abate(R) 1.1G Aedes Mosquito Larvae Killer 100 Gram Product Preview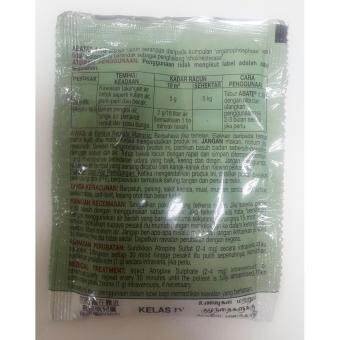 ---
Product Comparison BASF Abate(R) 1.1G Aedes Mosquito Larvae Killer 100 Gram Models and Prices