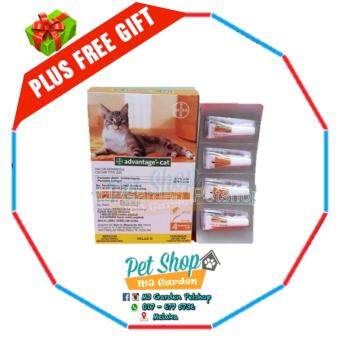 Latest Price: MYR67.50
Brands: Advantage
Category: Pet Supplies > Cat > Cat Flea & Tick
---
Product details of Advantage Cat Flea Kitten
Product details of Advantage Cat - 4 pcs per Box
Fleas can make your cat miserable, which is why killing fleas with monthly treatment is so important for your dog all year round.
For the treatment and prevention of fleas on dogs, cats, rabbits and ferrets. Larval flea stages are killed in the surroundings of ADVANTAGE treated pets. Reduces the incidence of Flea Allergy Dermatitis.
ADVANTAGE has been shown to kill adult and larval fleas within 20 min of contact by absorption via the flea intersegmental membranes. Stops fleas from feeding in 3-5 min.
One application on the skin lasts upto a month on cats .
ADVANTAGE is so safe it can be used on kittens from day one. It can also be used on pregnant and lactating animals.
Key Benefits: •Kills through contact so fleas don't have to bite to die •Kills all flea life stages as well as lice •Topical application •Kills reinfesting fleas within 2 hours i.e., fleas jumping on the cat after the product has been applied for 12 hours •Prevents fleas on a treated cat from infesting your home •One treatment prevents further flea infestations for 1 month •Safe for use on pregnant and lactating queens •Waterproof •Convenient, once-a-month application •For use on cats and kittens 7 weeks of age and older •Safe for use on rabbits
  Flea Control is probably one of the most important things people need as cat owners, whether they have indoor or outdoor cats. It kills fleas, and works for 30 days, while if they have a problem with ticks, the preferred product is Frontline Top Spot, which is deadly to both fleas and ticks, and also stays for 30 days.
---
Product Comparison Advantage Cat Flea Kitten Models and Prices