Latest Price: MYR134.99
Brands: Aekyung
Category: Health & Beauty > Makeup > Face
---
Product details of *NEW* AGE20's Essence Cover Pact VX Season 8 (ONLY An Original pack12.5g) No.21Light Beige
*NEW* AGE20's Essence Cover Pact VX Season 8 (ONLY An Original pack12.5g) No.21Light Beige
*NEW* AGE20's Essence Cover Pact VX Season 8 (ONLY An Original pack12.5g) No.23Natural Beige
Age 20's is a brand conceived with the motto of "turning the women's skin back to twenties". With Aekyung's skin science research know-how, we strive to create innovative functional cosmetics protect skin health and finish makeup and nurture skin for that is more beautiful and elegant.
[NEW]AGE 20's Essence Cover Pact VX Season 8
● Age 20's Essence Cover Pact is not just a foundation. It contains 68% of concentrated essence which works for anti-aging, whitening, moisturizing and SPF 50+ PA+++ protection all in one.
● -Vital Essence containing 68%
● -Essence contains seven herbs known to have antioxidant effects and an antioxidant complex that combines resveratrol, an antioxidant that helps prevent skin aging.
● It also contains an essential amino acid, vitamin, 500 fold antioxidant, astaxanthin And patented quaternary complex peptides.
● Triple Function Cosmetic (Whitening, Wrinkle Care, Uv Protection)
● Essence Cover Pact That Contains Ample Moisture Essence To Adhere To The Skin And Provide Flawless Skin
● Makeup Base + Foundation at once
● Moisture & Nutritious Essence Serum Included.
● SPA 50+/PA+++
● MADE IN KOREA.
● WORKS FOR ALL SKIN TYPES
● -HOW TO USE :
When You Makeup, Put The Contents Into The Dedicated Puff, Spread It On The Desired Area, Apply Appropriate Amount On Your Face As A Base Make Up. Tap With Cushion To Make Color Look Natural. And Finish It As If You Want To Make A Smooth Skin Expression. At The Time Of Makeup, Lightly Tap To Finish.
Vital Essence containing 68%
Essence contains seven herbs known to have antioxidant effects and an antioxidant complex that combines resveratrol, an antioxidant that helps prevent skin aging.
Makeup Base + Foundation at once
Moisture & Nutritious Essence Serum Included.
SPA 50+/PA+++
Complete *NEW* AGE20's Essence Cover Pact VX Season 8 (ONLY An Original pack12.5g) No.21Light Beige Product Preview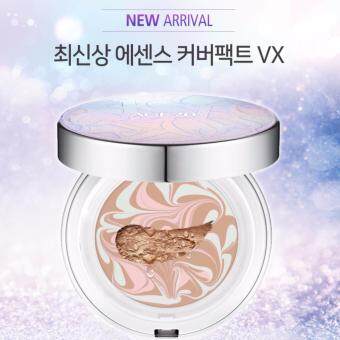 ---
Product Comparison *NEW* AGE20's Essence Cover Pact VX Season 8 (ONLY An Original pack12.5g) No.21Light Beige Models and Prices
*NEW* AGE20's Essence Cover Pact VX Season 8 (ONLY An Original pack12.5g) No.21Light Beige
Health & Beauty > Makeup > Face