Latest Price: MYR69.00
Brands: Baby Color
Category: Stationery & Craft > Art Supplies > Colouring & Copic Art Range
---
Product details of Baby Color Stackable Non-Toxic Crayon 12 Basic Colors
We know that drawing is very important for creative thinking so tried to look for products that are out there in the market. Unfortunately, we wouldn't find anything that we liked. Regular crayons can break apart easily and become a choke hazard. Large Chalk can easily be held but it leaves a powdery substance on their hands.
It is a crayon that can be used from age not have a pen.
And a unique shape that has been developed from many years of research, a way that is hard to break, stain-resistant is the crayon features. I use safe material and to lick. Get the AP mark.
Crayon itself washable, I removed with washing clothes also. In so there is a cavity hole to tip, stacking play can also be, and air goes through even if swallowed. Yes case made a little bigger size, I can happily practice of clean up.
It is a 12-color set of basic colors.
*荣获日本国内2011年Kids Design Award 最优秀赏 *2013年日本工业设计协会大赏 (Japan Industrial Designers' Association)
品牌:日本 产地:日本 适用年龄:2岁以上 产品原料:颜料、聚乙烯、碳酸钙、液态石蜡、固态石蜡 pigment / polyethylene / calcium carbonate / liquid paraffin and paraffin wax
ღ 100% 在日本国内制造,已取得专利 ღ 圆滚滚的细心设计,小朋友轻易抓握,可像积木般堆叠 ღ 美国AP-Nontoxic无毒认证 ღ 经过长年的研究所开发出具有独特形状、不易则断、不易弄脏的高硬度蜡笔 ღ 专利技术,不会产生粉削,不易弄脏衣服 ღ 设计安心、无刺鼻味成分安心 ღ 家用洗涤剂即可去除蜡笔痕迹 ღ 宝贝发挥无限创意,父母也能一起同乐
Japan's non-toxic crayon for toddlers
Stains can be easily washed off with normal cleanser
Multi-purpose with a unique hollow shape for stack and play
Strengthen handgrip and increase toddler's development
Help strengthens hand-eye coordination
Certified non-toxic by ACMI
Made in Japan
Complete Baby Color Stackable Non-Toxic Crayon 12 Basic Colors Product Preview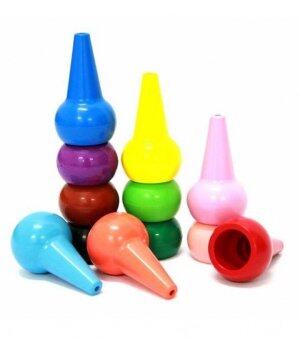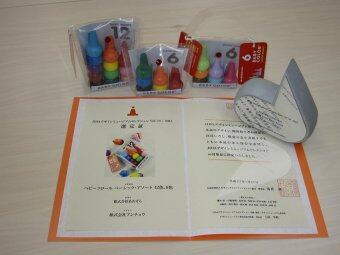 ---
Product Comparison Baby Color Stackable Non-Toxic Crayon 12 Basic Colors Models and Prices