Latest Price: MYR100.90
Brands: Tupperware
Category: Kitchen & Dining > Kitchen Storage & Accessories > Food Storage & Dispensers
---
Product details of Tupperware Snowflake Square Round 1.3L ( Set of 4 )
 This is a set of Snowflake Square Round Set of 4, 1.3L each.
The Best Containers for your fridge:
1. Keep food fresh.
2. Minimize space and accommodate just about whatever you like - From left overs, fruit slices and chopped veggies to sandwich filling and garnishes.
3. The colour coded containers and its stackable design make searching easy and store food quickly.  
Keep food fresh.
Minimized space.
Colour-coded containers.
Stackable design.
Limited Stocks left.
High Quality productions from Tupperware.
New, mint conditions.
Complete Tupperware Snowflake Square Round 1.3L ( Set of 4 ) Product Preview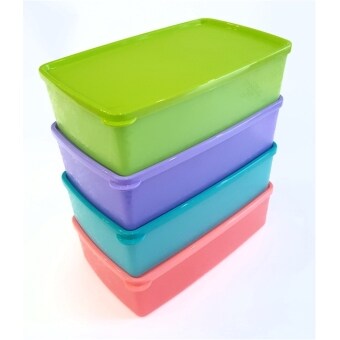 ---
Product Comparison Tupperware Snowflake Square Round 1.3L ( Set of 4 ) Models and Prices